Axa vs Holly
Run Time 15
Size 233 MB
Resolution 1280 x 720 px
Starting off in their bikinis, sexy blonde Axa and gorgeous redhead Holly are topless by the time this contest begins. Both girls have model looks and the bodies to match,
and here both are stretched to their maximum. As they tussle, sitting on each other's face to dominate and crush, it's clear that this is no ordinary match, with both girls
gleefully feeling the other's breasts and reaching down, deep between their opponent's legs, to caress and humiliate. It's blonde firebrand Axa that runs the show � when
sitting on Holly's face, she pulls off her opponent's bikini bottoms and holds her in various naked holds. Holly eventually strips Axa naked, but it's the blonde that's in control
here. When Holly's legs are twisted up to try and knock Axa from her face-sitting perch, that's merely an excuse to Axa to spread �em further and caress the
struggling redhead's most intimate zone. Very hot stuff!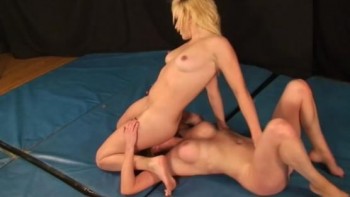 Download links:
http://k2s.cc/file/1046d0029ffc9/TCMAR294.mp4